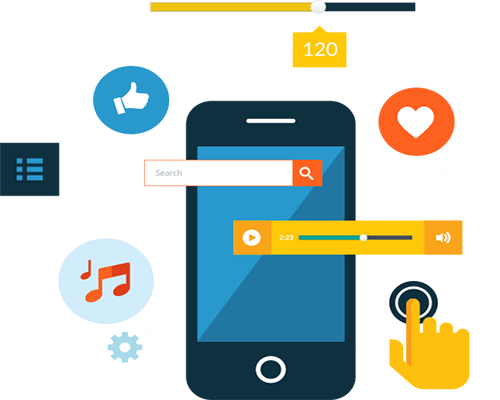 In today's mobile-centric world, having a mobile application is essential for businesses to connect with their customers and stay ahead of the competition. At NamaaIT, we specialize in developing mobile applications for iOS (iPhone devices) and Android (Samsung and other Android devices), providing cutting-edge solutions that cater to your unique business needs. Our team understands the significance of mobile applications in expanding your reach and enhancing user engagement.
Our team of skilled developers is known for their clever and innovative approach to mobile application development for both iOS and Android. We work closely with our clients to understand their vision and goals, and then we leverage our expertise to transform those ideas into feature-rich mobile applications. We pride ourselves on our ability to bring new creative ideas to the table and provide customized solutions that align with your brand identity on both iOS and Android platforms.
At NamaaIT, we prioritize quality in every aspect of our mobile application development process for both iOS and Android. We adhere to industry best practices and use the latest technologies to deliver high-performance applications that offer seamless functionality and exceptional user experiences on both platforms. Our rigorous testing and quality assurance processes ensure that your mobile application meets the highest standards and exceeds user expectations on iOS and Android devices.
When you choose NamaaIT for your mobile application development needs, you can expect a collaborative and transparent partnership. Our team works closely with you throughout the entire development lifecycle, from concept and design to deployment and post-launch support, for both iOS and Android platforms. We value your input and feedback at every stage, ensuring that the final product reflects your vision and satisfies your business objectives on iOS and Android devices.
With NamaaIT's mobile application development service for both iOS and Android, you can unlock the full potential of mobile technology and elevate your business to new heights. We combine technical expertise, creative thinking, and a commitment to quality to deliver mobile applications that make a lasting impact on your target audience on both iOS and Android platforms. Contact us today to discuss your mobile application requirements and let our team bring your ideas to life on iOS and Android
Ready to bring your mobile app idea to life? Contact NamaaIT today and let our talented team of mobile app developers turn your vision into a reality. We are here to answer any questions you may have and provide expert guidance throughout the development process.
Don't miss out on the opportunity to harness the power of mobile technology for your business. Call us now or fill out the form below to schedule a consultation. Our team looks forward to discussing your project and delivering a high-quality mobile app that exceeds your expectations.