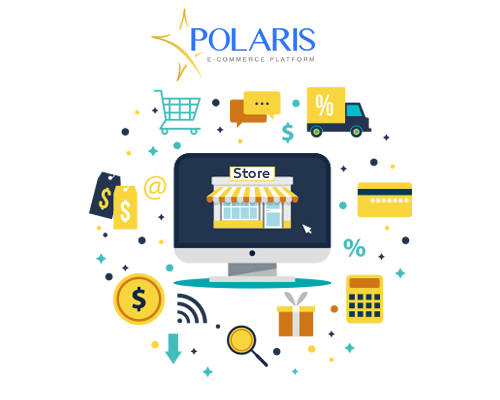 Everything You Need to Build a Successful Online Business using Polaris eCommerce platform
Polaris is more than simply another eCommerce platform. It's a complete online solution tailored to help you to achieve your most important goal:
Build a profitable online eCommerce store that continues to generate long-term revenue
Yes, at the core of our solution is an attractive, dynamic online storefront that's optimized to draw in a continuous stream of new customers and boost sales.
Yes, there's even a whole suite of friendly tools that the marketing and operation team can use to manage orders and grow the business.
Yet that's only one part of the entire Polaris experience.
Read on to discover why Polaris is the ideal eCommerce solution for your business or get in touch today to book a demonstration Click Here or What's app us
Polaris: eCommerce Solution Tailored to Your Business
Every retail business is different. As such, what might be the right eCommerce solution for one business may not be right for another.
If you're a small, independent store, for example, then your needs and requirements are going to be different than they would be if you were a large wholesaler or national chain.
What Makes Polaris Different?
A Total eCommerce Solution
Many other eCommerce platforms Only focus on websites.
Yet when it comes to mobile app development, you're left to find a third-party who can help you get your store onto your customers' mobile phones and smart devices, often with no regard as to how that mobile app integrates with the rest of your business.
Since the majority of customers access the web on smart devices these days, that can be a problem.
Polaris is the solution to that problem.
When you choose us to launch your online store,
you get both a website and a fully-integrated iOS and Android compatible mobile app which serves as an extension of your website,
Yes, your customers can access an attractive and functional storefront through their favorite web browser.
Yes, you can use a web browser to access standard back-end features such as inventory management, product listings, sales, shipping, and customer lists.
Yes, your customers can access your eCommerce storefront through a mobile application with the same features.
The end result is that you're better equipped to meet your customers where they are, all without the extra time and money that it takes to run a separate app.
get in touch today to book a demonstration Click Here or What's app us
A Dedicated Solution Tailored to Your Goals
No two businesses are ever quite the same. As such, the generic features offered by other eCommerce systems may not be quite right to help you attract your target audience and meet their needs in a way that produces significant long-term revenue for your business.
With Polaris, we do things differently.
When you book your first interactive consultation with us, we take the time to really get to know your business and its customers. From there, we draw on our 21+ years of experience in helping businesses to succeed in the digital economy and put together a solution that's tailored to you.
This means everything from the look and feel of your online store, to the technical features you need to best serve your customers, all the way to the kind of post-launch support you need, is built with your unique business and your unique goals in mind.
get in touch today to book a demonstration Click Here or What's app us
Lightning-Fast Launches
Once you decide to take your retail business online, the last thing you want is to wait around while developers take their time in building your store.
You want action. You want results. You want to bring your big eCommerce idea to life as quickly as possible.
At Polaris, "quickly as possible" is just how we like to work too.
That's why we go all out to launch your eCommerce website within just 5-7 days, meaning you can get to work on growing that website much sooner.
Flexibility and Customizations
As the world evolves, so too do the needs of your customers. As those customers' needs change and new trends emerge, it's important that your business evolves too.
Polaris helps you adapt to changes in the market or customer behavior by offering total flexibility to add new features or customize your system.
This way, you can be sure that your retail business is always well-equipped to succeed in an ever-changing market.
More importantly, we do all this with our trademark commitment to fast turnarounds and competitive pricing.
get in touch today to book a demonstration Click Here or What's app us
Full Integration With Your Existing Retail Business
It may be that you want to keep the eCommerce side of your business separate from your physical store. In that case, you'll be able to operate what we call a "Dark store," - an online store that has no links to the rest of your operation.
However, you may find that bringing both sides of your business together as one makes the whole thing easier to manage, giving you better insights into inventory levels and sales orders, and ultimately helping you to streamline the way you work.
If that's the case for you, your online store can be fully integrated with your ERP software and Point of Sale (PoS) solution so that both sides of your business can work in harmony as one.
Our solutions are designed to seamlessly integrate with SAP, Microsoft Dynamics LS, Oracle Business Suite, Odoo ERP, and most major Local ERP and PoS solutions. We also offer effortless compatibility with all major payment gateways and shipping companies including Aramex, DHL, Mylerz, and more.
Easy-to-Follow Reports to Help You Grow
The key to growing any successful business is to identify what's working and do more of it.
In the case of online retail, this may mean identifying your best-sellers and featuring them prominently on your site.
It may mean identifying those products that aren't selling so well so that you make changes or clear out inventory to make room for new items.
Alternatively, it may simply mean looking at those marketing and SEO efforts that are generating the most visitors and sales so that you can further optimize your site.
Whatever the case may be, you'll find all of the data you need to make those big, growth-generating decisions thanks to our wealth of dashboards and rich reports. Each one provides in-depth insights into how well your store is performing, all presented in a clear, easy-to-read style.
get in touch today to book a demonstration Click Here or What's app us
A Team of Experts Behind Polaris
The team behind Polaris takes great pride in offering a better alternative to other eCommerce platforms that just don't take into account the unique challenges your business faces.
Over the past two decades, we have developed an enviable reputation for excellence in our industry.
It's a reputation we've earned thanks to our commitment to providing first-class customer service delivered by knowledgeable experts who truly make your success their personal mission.
Rather than contacting one company for development, another for operation, and a third for help with marketing, all of your support needs are handled through a single point of contact, with a team of experts who serves as your one-stop-shop for all of your ongoing support needs.
Ultimately, this means no long periods of time waiting on hold as you're passed between different companies and no need to explain the same problem to three different customer service agents.
Instead, simply let our experts and professionals know what you need, and they'll get to work as quickly as possible to make it happen for you.
With You Every Step of the Way
What sets us apart is that we understand more than most that launching your eCommerce website isn't the end of your journey. It's only the first of many steps towards financial success.
It's because we know that your digital storefront is only one piece of a much bigger picture that we take a hands-on approach to help you achieve your goals right from the word go.
When you're ready to take advantage of new digital channels to grow your retail business, our team of highly experienced experts is ready and willing to provide all the support you need at each step, including:
Tools to Help You Expand Your Market
The power of the Internet means that these days, we can reach more customers than ever before, regardless of the language they speak or their geographical location.
With some eCommerce solutions, however, meeting the needs of your native Arabic customers while also appealing to English-speaking audiences typically means building one website for each customer base.
As you can imagine, that means twice the work, twice the cost, and twice the amount of time it takes to successfully maintain and grow your store.
When you work with us, you get a single website with bilingual capabilities so that you can reach both Arabic and English customers via the same single platform, meaning you can expand your market reach with no extra effort.
A Complete Post-Launch Service
Launching an online store that looks good and functions smoothly is a great start, but if nobody knows it exists, then your business isn't going to get very far.
That's why your Polaris team offers a complete package of tools, services, and ongoing support to help you attract customers, build up that all-important brand loyalty, and maximize sales.
With other eCommerce platforms, your journey with them ends the moment you hit the go-live button. After that, it's up to you to navigate your way through marketing, SEO, and mobile app development.
Whether you choose our Polaris or PolarisMAX solution, we're on hand to help you with all of those things and more so that you stand the best possible chance of achieving your goals.
Premium Results at Affordable Prices
Let's be honest, you got into business to make money, not spend it.
That's why we offer the most competitive pricing in the industry, meaning high costs are no longer an obstacle when it comes to your eCommerce success.
Polaris: Making Your Success Our Responsibility
We approach the launch of every new online store as if it were our own business, giving us a certain sense of responsibility for your success.
It's this philosophy that ultimately underpins everything we do.
From pre-launch to post-launch and everything in between, our goal is to ensure you achieve your goals, and we truly do go all out to make that happen.
To find out more about how Polaris can make your dreams of eCommerce success a profitable reality, book your initial consultation today. Click Here or What's app us